Toothbrush Recommendations For Patients With Sensitive Teeth
If you have sensitive teeth, you may worry that the rapid oscillations of an electric toothbrush will cause you pain. However, some electric toothbrushes are designed for people just like you. Read on to find out what to look for in an electric toothbrush if you have sensitive teeth and get our dentist recommendations on the most suitable models.
Here are 4 key features to look out for when picking an electric toothbrush for sensitive teeth:
1) Type of Brush: Oscillating vs Vibrating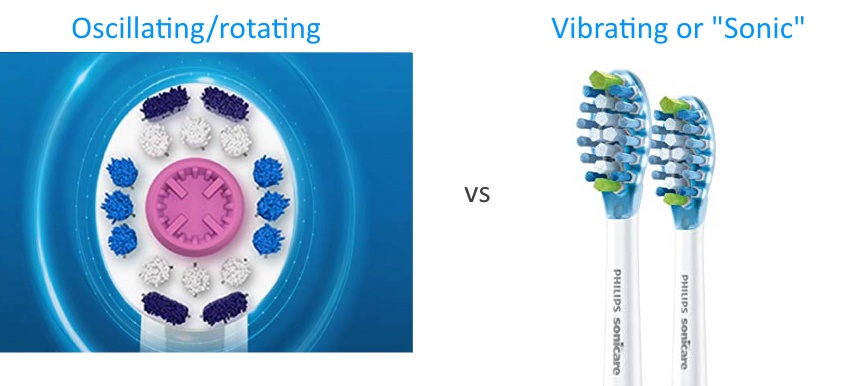 Although there are many different kinds of electric toothbrushes on the market, broadly speaking they fall into one of two categories based on how the brush head moves:
 either by oscillating/rotating or;
by vibrating. These are often referred to as sonic toothbrushes.
The bristles on an oscillating/rotating brush move back and forth, and around, between 2500 and 7500 times per minute depending on the model, whereas the bristles on a vibrating brush can create as many as 40,000 pulse movements per minute. Though the argument has sometimes been made that this much greater number of brush motions of the sonic toothbrush gives it an advantage in its cleaning power, research indicates that an oscillating/rotating brush is not only more effective in reducing plaque and gingivitis, but also leads to significantly less sensitivity in teeth. Opting for an oscillating/rotating toothbrush rather than a sonic one, is a good plan if you have sensitive teeth.
2) Sensitive Mode
The best electric toothbrushes for sensitive teeth typically will include an adjustable mode for sensitive cleaning. What is so "sensitive" about this mode? Quite simply, it results in the brush moving at a slower rate, and thus causing less irritation to teeth and gums, while still providing a very thorough cleaning. Look for a brush with a sensitive mode, along with a toothpaste intended for sensitive teeth, such as Sensodyne.
3) Soft-Bristle Brush Heads
Electric toothbrushes, just like manual brushes, can vary in the softness of the bristles on the brushes themselves. While some brushes will come with soft-bristle heads to begin with, others may come with a more standard brush head which may be able to be switched out for a different one. Just as with a manual toothbrush, it is important to replace the brush head every three to four months, or sooner if the bristles are worn or damaged. Replacement soft-bristle brush heads are readily available online, for instance on Amazon.com, for reasonable prices. Be sure to look for a brand that specifies that the bristles are soft (or preferably extra-soft), such as Oral-B's Extra Soft Bristle Heads for sensitive gums and teeth. Importantly, you'll want to be sure that the replacement brush heads you select are compatible with the particular model of electric toothbrush you have.
4) Pressure Sensor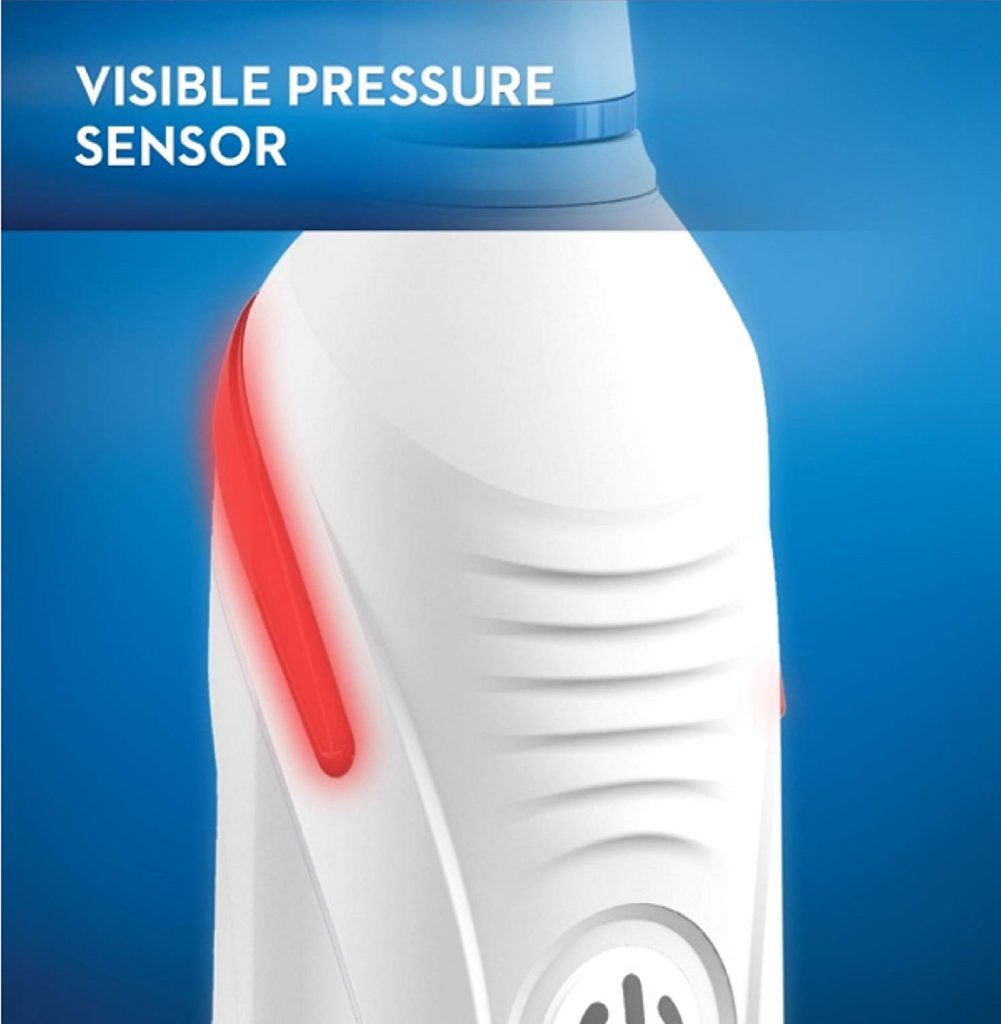 An added feature to look for in an electric toothbrush for sensitive teeth is whether it has a pressure sensor. This is technology built into the brush to provide you with a signal of some kind if you are applying too much pressure while brushing. It often takes the form of a light on the handle that turns red if you are pushing too hard. Alternatively, with other types of sensors, the brush may turn off altogether if you are using too much pressure. In either case, this is a worthwhile feature to have, even if you are already using sensitive mode and a soft-bristle brush head, because it provides an extra safeguard for your sensitive teeth and gums.
Recommended Tootbrushes for Patients with Sensitive Teeth
Taking into account the features above, what toothbrushes do we recommend to our patients? Below are some good electric toothbrushes that meet all the requirements and get good feedback:
 The Oral-B PRO 5000 (here on Amazon): This very highly-rated toothbrush includes a sensitive mode which functions at a lower speed (as well as offering four other modes: Daily Clean, Gum Care, Whitening, and Deep Clean). It also has a visible pressure sensor on the brush handle which lights up and stops pulsations if you are applying too much pressure. It is compatible with all types of Oral-B brush head refills, including the variety for sensitive teeth (sold separately). As a bonus, this brush is also Bluetooth-compatible, and provides real-time feedback to the user on the status of the pressure sensor, via the Oral-B App. A built-in timer also helps to guard against brushing longer than the dentist-recommended two minutes.
The Oral-B PRO 7000: This slightly more costly, but also very highly-rated model, includes all the features of the Oral-B Pro 5000, plus an additional brushing mode (Tongue Cleaner), and a total of three brush heads (CrossAction, ProWhite, and Sensitive) which come with the product itself and therefore do not need to be bought separately. A travel case is also included with this toothbrush.
The Oral-B PRO 3000: This slightly more economical model has all of the the essential features of the Oral-B Pro 5000, including the visible pressure sensor, sensitive brushing mode, Bluetooth connectivity, and compatibility with sensitive brush heads (to be purchased separately). It does not include the whitening and Deep Clean modes that the Oral-B Pro 5000 model has, but with sensitive teeth these are not likely to be missed.
A final word on Oral-B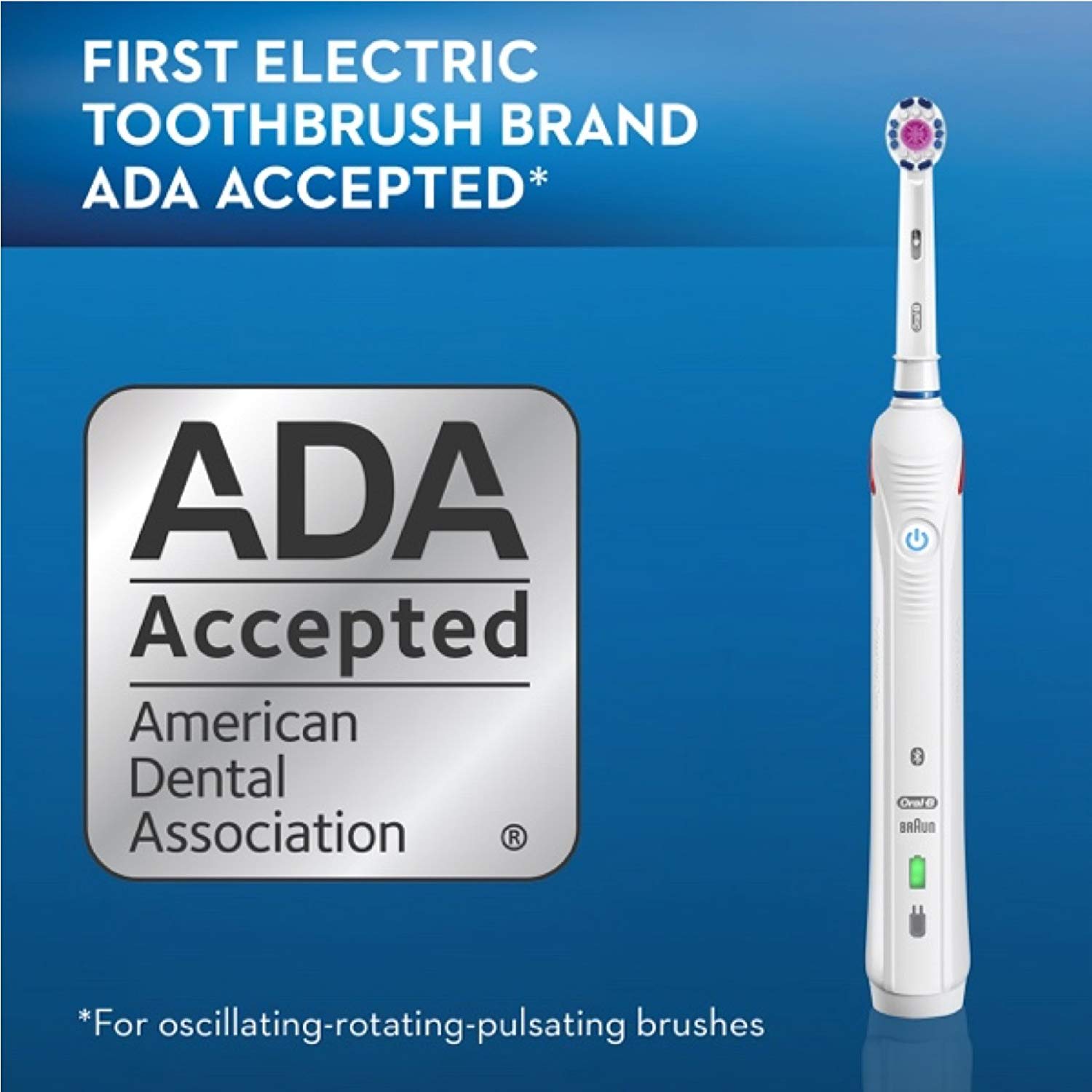 It is worth noting that this line of Oral-B electric toothbrushes is approved by the American Dental Association (ADA), having received the ADA Seal, whereas most electric toothbrushes have not. Seeking out an Oral-B brush, and in particular one of the above options, which are among the best electric toothbrushes for sensitive teeth, is a smart choice to make for your dental health. Also note that most Oral-B toothbrushes are fundamentally the same: they are good products, but the features of more expensive models offer no practical benefit. Do your wallet a favor and get a mid-end product (like the PRO 3000 or 5000) instead of spending up to $150 on the more premium models.